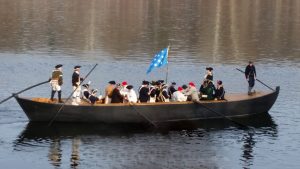 Meet at the Taylorsville General Store on 32 at 11 am. Plan to stay until about 2 pm.
Join us on the banks of the Delaware River to watch an annual reenactment of George Washington's daring Christmas Day river crossing.
This year's first crossing event will be held on Sunday, December 11 from 10 a.m. to 4 p.m. (actual crossing time approximately 1 p.m.).
During the event, several hundred re-enactors in Continental military dress listen to an inspiring speech by Washington and then row across the river in replica Durham boats. Additional activities and demonstrations take place throughout the historic village.
Cost to attend the first reenactment on December 10 is $8 for adults, $4 for children age 5 to 11, and free for those under five. Proceeds from the first crossing support future programs in the park. More Information Here.
River crossings are contingent upon safe conditions for participants. However, even if conditions do not allow for crossing, ceremonies, speeches and commemorative activities still occur.Save