Saturday, May 8th at the Church Auditorium
9:00AM – Tigers
10:00AM – Wolves
11:00AM – Bears
12:00PM – Webelos
1:00PM – Arrow of Light
2:00PM – Championship race consisting of the first place winners for each den from earlier in the day.
The three special categories are Most Patriotic, Funniest, and Best Design. Voting will be online – details to follow.
---
Logistically, there are a couple of changes this year.
As of right now, only 1 parent/guardian will be allowed to attend the race with their son. Depending on conditions, this may be expanded as we get closer to the race.
There won't be any chairs set up, so spectators for the races will stand this year (including the scouts who are not racing in a heat).
There will not be any food or drink served this year
Everyone will need to use a mask indoors, and social distancing protocols followed
Scouts will need to check in their cars on Friday, May 7th between 7 PM – 9 PM in the auditorium. This is the same check-in process as prior years (car weighed, etc.).
---
The Pinewood Derby Workshop is Saturday, March 27th between 1-3 pm at St. Ignatius
---
Pinewood Derby Tips
Please follow the rules and practice good sportsmanship!
Please don't modify the wheels!  Most stickers, paints, and supplies can be purchased at Michael's Crafts near the mall.  Some more exotic design elements, lead and tungsten weights can be found on the web.  We have personally ordered paints and weights from Hodges Hobby House and been satisfied*. 
*NOTE: Their modified axles, wheels, and bodies are ILLEGAL in our district.  DO NOT buy them.
Design aids
CLARIFICATION OF DISQUALIFYING / ALTERED WHEELS: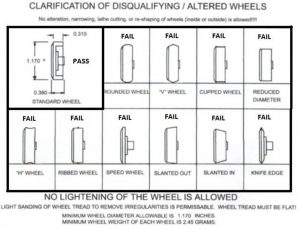 A few good websites with information and tips on construction are here:
There are numerous good books on the subject as well.  I recommend Pinewood Derby Speed Secrets: Design and Build the Ultimate Car.  Pack 230 will receive a small commission if purchased through this link.
Please feel free to contact David with any questions.
GOOD LUCK!